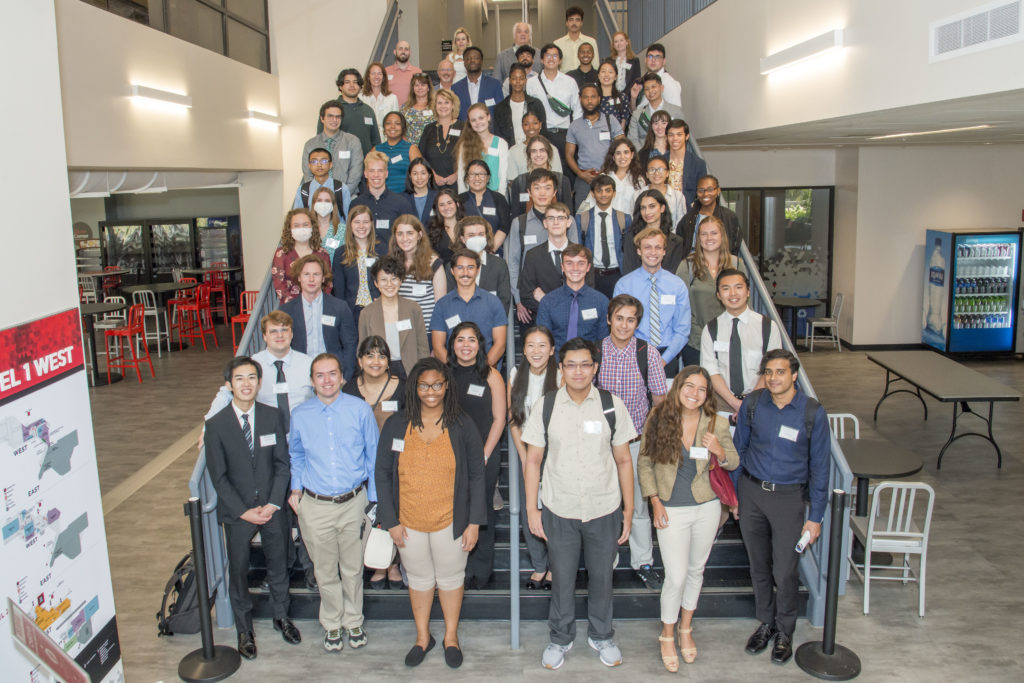 The Singh Center REU experience includes an invitation to the larger NNCI REU Convocation. (photo from 2022 NNCI REU Convocation at the Kentucky Multi-Scale Manufacturing and Nano Integration Node; all six Singh REU students presented at this convocation at the University of Louisville).
This 10-week program gives undergraduate students the opportunity to work with scientists on the cutting-edge of nanoscale research. The Singh Center offers four major research facilities, all featuring state-of-the-art equipment for nanoscale characterization, measurement, and fabrication: the Quattrone Nanofabrication Facility, the Nanoscale Characterization Facility, the Scanning and Local Probe Facility, and the Material Property Measurement Facility.
Summer projects may include ones in which students work on a research project within a Penn faculty member's lab, as well as unique project opportunities to work on research originating from the Singh Center research facilities themselves. Students will be matched to projects based on their background, interests and the projects' needs and requirements.  All projects will provide the opportunity to learn next-generation nanotechnology approaches and to develop experience working in at least one of the research facilities using state-of-the-art equipment. Students will gain experience with substantial aspects of doing science: experimental design, data collection and communication of results. Students will also participate in activities that complement the lab research and help to develop broader scientific and career skills: seminars, paper discussions, career sessions and skills workshops.
Student participants will earn a $5500 stipend (before taxes, paid in installments), and will be housed within walking distance of the university with housing provided by the program. In addition, up to $500 in travel costs to Philadelphia may be eligible for reimbursement. Philadelphia is an exciting place to live for the summer, with many social and recreational activities.
Program at-a-glance
Focus: Nanoscale research opportunities across a wide range of disciplines from materials science, mechanical engineering, chemistry, physics, bioengineering, physiology, chemical engineering and electrical engineering.  Examples of previous research projects may be found here.
Dates: May 30 – August 4, 2023
Location: University of Pennsylvania, Singh Center for Nanotechnology in Philadelphia, Pennsylvania
Eligibility: You must be an enrolled undergraduate student, who will not graduate before the summer program ends. Students enrolled in the University of Pennsylvania are NOT eligible to apply (Penn students looking for summer research opportunities are encouraged to look at the other NNCI site REUs and Pathways to Science.)
You must be a U.S. citizen or permanent resident to participate in this program.
The University of Pennsylvania values diversity and seeks talented students from diverse backgrounds. We strongly encourage students from underrepresented groups in STEM, including women, racial and ethnic minorities, individuals with disabilities and veterans to apply.
Penn COVID-19 Response: Visit the PennCares webpages to review current policies and statistics.  REU students would be expected to follow all relevant campus protocols.
Stipend: $5500 (before taxes, 9 AM – 5 PM full-time participation for the duration of the program is expected)
Application Components:  The application form refers to these following directions when uploading the required components.  Applications will only be reviewed if all components are submitted by the deadline and are consistent with the below instructions.      
Complete applications will have a) an online Interfolio application form (link below), b) a resume, c) a transcript from your current school and from all colleges you have attended, d) a personal statement, and e) two letters of recommendation.  Additional details are below.
Resume: Your file should be no longer than one page.
Transcripts: You may use a copy of your unofficial transcript(s) with the application. You should upload one transcript for any institution you have attended.  For example, if you have taken community college courses during summers, you should upload these transcripts in addition to your transcript from your primary school. The only exception is if your primary transcript shows letter grades for coursework done at other institutions. If your primary transcript reads "transfer credit" (and has no grades for these courses), please upload transcripts for these other schools.
Personal Statement: Upload a no longer than 1-page statement that discusses a) your scientific and research interests, b) your career and educational goals (e.g., employment, graduate school, etc), and c) why you are applying to this specific program.
Letters of Recommendation: Letters of recommendation should be from faculty members or advisors who can address your academic and/or research abilities and potential. All applicants should have at least one letter writer from your current institution.
For the second letter, letter writers can be from other institutions and/or hold positions outside of academia. For example, if you did an internship at a company or summer research at another school that would be relevant to your REU application, you can include your supervisor as one of your letter writers. Unless you are a 1st year college student, a high school teacher should not submit your second letter. 
Your letter writers should address 1) the context of their interactions with you, 2) their perception of how you will contribute to and what you will gain from a 10-week research experience, 3) their perception of your level of academic preparation and motivation and your social maturity and awareness. Other comments that provide information not available from your transcripts are welcome.
Application Deadline: 11:59 pm ET on February 1, 2023 (applicants will be notified of the status of their application by May 1, 2023). 
Application Portal: Access the application here starting on December 20, 2022.
Questions: SinghCenter_REU@nano.upenn.edu