The Mid-Atlantic Nanotechnology Hub, (MANTH), and the National Nanotechnology Coordinated Infrastructure, (NNCI) partners, the Cornell NanoScale Science and Technology Facility, (CNF), the Southeastern Nanotechnology Infrastructure Corridor, (SENIC), the Nebraska Nanoscale Facility, (NNF), and the Kentucky Multiscale Manufacturing and Nanointegration Node (KY MMNIN), held a one-day virtual symposium on Wednesday, September 29, 2021. 

The goal of this hybrid meeting was to summarize, inform, and exchange the work of NNCI users in the Nanoscale Internet-of-Things (Nano-IoT) research arena. All of the presentations were recorded; links are provided in the list at the bottom of this page. 
It is our conjecture that many devices and applications for IoT will be enabled by nanotechnology.
The IoT 'things' may in many cases comprise small-scale structures, sensors, and actuators (MEMS)
The IoT 'things' may need to process and collect data, requiring on-board electronics
The IoT 'things' will need to communicate with the Internet, requiring communication protocols in multiple bands exploiting a diversity of modalities
Our vision is that the ubiquitous sensing potential of the Nano-Enabled Internet of Things (Nano-IoT) will: 
provide the input necessary for data mining/big data processing to understand complex system behavior 
augment the interaction environment in future workplaces 
be the transducers that can monitor living things from agriculture to medicine 
catalyze the convergence of researchers from many intellectual backgrounds
Nano-IoT encompasses several of the themes of the NSF Ten Big Ideas, including: Future of Work, Growing Convergence Research, Understanding the Rules of Life, and Harnessing the Data Revolution.
FOCUS AREAS:
Precision and Smart Agriculture
Autonomous Vehicles
Energy Efficiency and Sustainability
Environmental and Infrastructure Monitoring
Human Body Networks and Infrastructure
Nanotech for Energy and Environment
Nano Electronics
2021 Nano-IoT4G Virtual Program: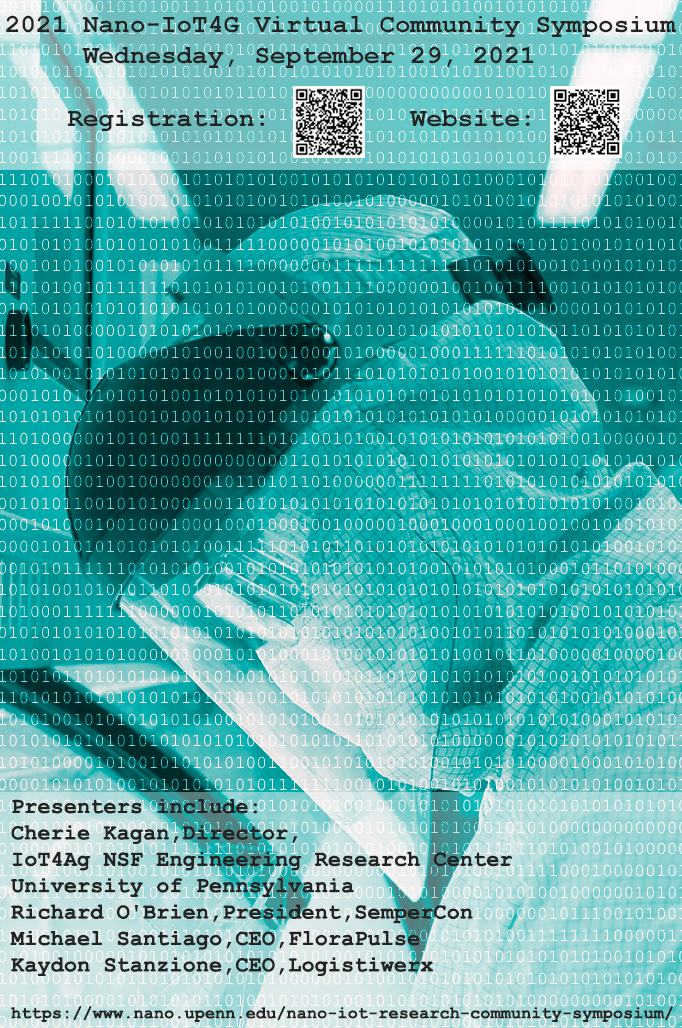 Welcome
Mark Allen, University of Pennsylvania

IoT4Ag
Cherie Kagan, University of Pennsylvania

Impact of Autonomy on Transformative Transportation and Logistics
Kaydon Stanzione, Logistiwerx

Irrigate? Ask the tree! Implantable MEMS to measure plant hydration
Michael Santiago, FloraPulse

Enabling IoNT: Internet of Things Infrastructure
Rick O'Brien, SemperCon

CNF Site Overview
Christopher Ober, Cornell University

SENIC Site Overview
Oliver Brand, Georgia Institute of Technology

MANTH Site Overview
Mark Allen, University of Pennsylvania

NNF Site Overview
Christian Binek, University of Nebraska, Lincoln

KY-Multiscale Site Overview
Kevin Walsh, University of Louisville

Concluding Remarks
Mark Allen, University of Pennsylvania