2019 Seed Grant Winners Announced
The Singh Center for Nanotechnology is pleased to announce the recipients of the 2019 Seed Grant competition. The program, now in its fourth year, provides funding opportunities to individuals, startups, and small businesses (under 50 employees). Grant awards of up to $3,000 are provided for one year for the use of Singh Center for Nanotechnology tools and equipment.
"We see this program as an investment into our community," Matt Brukman, Manager, Local and Scanning Probe Facility, Singh Center. "By providing these startups with access to this level of equipment at no cost, we're demonstrating our confidence in their project submissions. If successful, their work in our facility translates into valued significance, not only from an economic standpoint of hiring skilled talent which puts financial value into our local economy, but also the innovative accomplishment, which has the ability to make a significant impact worldwide."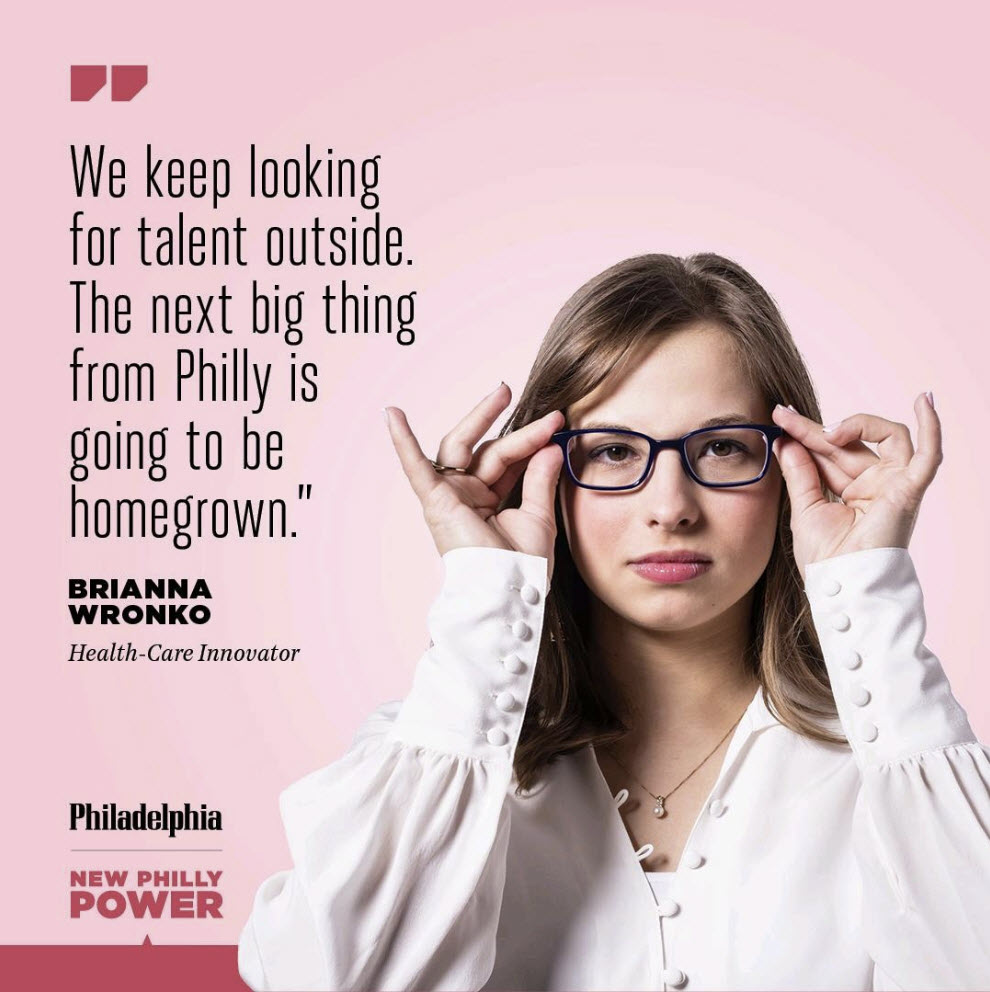 Brianna Wronko, Chairwoman and Chief Executive Officer, Group K Diagnostics. former Singh Center for Nanotechnology Seed Grant recipient.  – Philadelphia Magazine
Several previous Seed Grant recipients have gained notoriety for their success in the marketplace.  "Philadelphia" magazine recently recognized Brianna Wronko, Chairwoman and Chief Executive Officer, Group K Diagnostics. an early recipient of a Seed Grant award.   Her company's mission is to improve the diagnostic process for both patient and caregiver by bringing routine lab tests to the patient, and create technologies that reduce the waiting time from days to minutes.
This year's recipients were selected by Singh staff and a host of professional advisors from the regional community.  The following recipients will be awarded funding.
CubIMM – Utilizing several existing technologies into a new level device to measure if the patient in the ICU can respond to infection in adequate way.
NanoXCell Therapeutics – Developing cell therapies using a completely novel nanoinjection platform that enables the engineering of high quality cells to treat patients in a rapid point-of-care manufacturing process.
InnaMed Inc. – Developing a smart, at-home blood testing device for the early detection of deterioration and automation of therapy in chronically ill patients.
Mitology – Creating a prototype O2 nanosensor in pre-clinical models of Mitochondrial Myopathy (MM).
NanoGrass Solar LLC – Developing a photonic hardware that facilitates tele/data communications of 200 Gbps and beyond.
Volta Therapeutics LLC – Building an advanced electroporation device for cell isolation and gene transfection to genetically engineer T-cells with cancer targeting receptors.
Therapeutic Articulations, LLC – Creating a Mobil-Aider device that is able to quantify knee joint laxity to contribute to the clinical decision-making regarding injury management and the ability to quantify joint mobility to consistently render therapeutic treatments to improve quality of care.
To date, over ten million dollars in secondary funding has been secured by past recipients of the grant awards, indicating the success of the program. "For us, this program demonstrates the need to provide early innovators and startups with resources to fulfill their vision. One of the top reasons why startups often fail is the lack of funding to keep them going. Several previous recipients, Group K, Folia Water, Graphwear, among others, have proven that beyond our facility they possess the skills and capabilities to take their product from concept to market.  Their success in entering the market also paves a way for innovative, sometimes, life-saving product that was never considered before." Gyuseok Kim, Principal Scientist, Quattrone Nanofabrication Facility.
While a great concept doesn't guarantee success, the Seed program does provide some level of assistance to the grant recipients. This is because the Singh Center staff knows that it takes more than a good concept for success. "Some of the grant recipients really make the investment to hit the ground running by attempting to learn what they don't know, and how to increase their probability for success. We've witnessed others who don't realize the opportunity they've been provided, or aren't able to work through the obstacles, the missteps, and gain the knowledge to perfect a working prototype. We offer some support and feedback, but at the end of the day, you'll find it's the startup's self-driven motivation that's going to make this a succeed-or-fail effort," Eric Johnston, Manager Soft Lithography.
In four years, the Singh Center for Nanotechnology has provided more than 40 grant awards, and envisions expanding their presence in funding new opportunities. "There is an amazing amount of innovation occurring from the tech field where nanotechnology plays a critical role.  Our Center is positioned to support this growth with a variety of initiatives, including industry partnerships and additional funding down the line." Pat Watson, Manager of User Programs.
Overall, the Center is pleased with its efforts in forming a bridge between innovators and industry to ensure the latest tech growth in the Mid-Atlantic region is fully supported and represented.  The next Seed Grant application period for the Singh Center for Nanotechnology is slated for January 2020.
This program is supported by the Singh Center for Nanotechnology, a member of the National Nanotechnology Coordinated Infrastructure (NNCI), which is funded by the NSF (Grant NNCI-1542153).